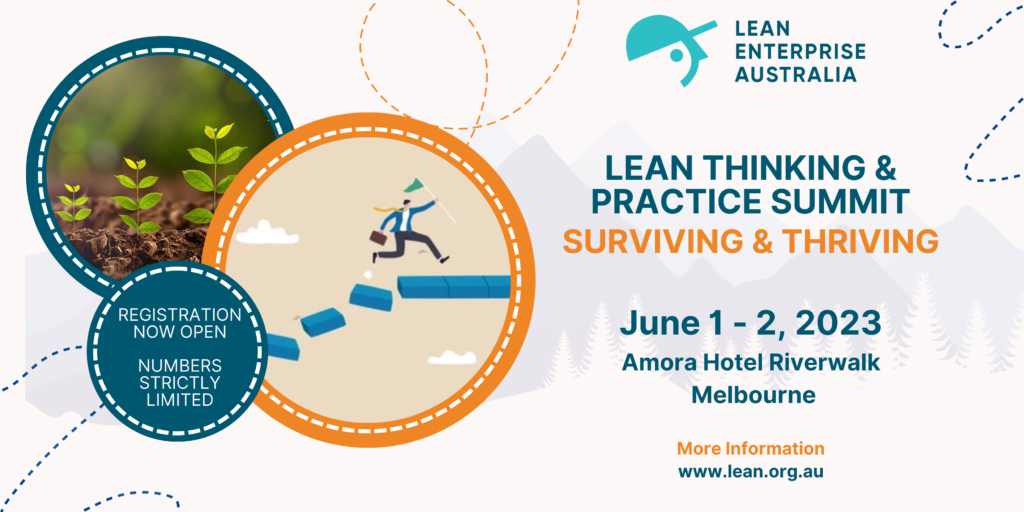 LEAN THINKING & PRACTICE SUMMIT 2023 – CANCELLATION
When COVID receded in Australia in late 2022 the first thing the team from LEA turned our minds to was bringing together the Lean community in Australia for our annual Summit. The last time we were all in one place was way back in 2019 – when we had the joy of gathering in Melbourne, hearing from some excellent international speakers and a willing team of local lean practitioners and experts.
With a database full of past conference delegates from healthcare, manufacturing, digital, government, and mining sectors, we set ourselves a 3-weeks out planning goal of 80 attendees, and thus a breakeven budget for 2023.
It's with great sadness we need to let you know that we have not hit that goal, and we have made the tough decision to cancel the in-person event and do our best to bring a handful of our international speakers online in webinar format over the Winter for anyone who is interested.
2023 has presented every Australian organisation with challenges to run events of this kind – in person or virtual. The uncertainty that is surrounding the close of the 2023 financial year feels unprecedented – corporate training budgets up in the air, operational plans not cemented in, all the way down to people not feeling certain in their day to day work.
Delegates who have registered and paid will receive refunds as soon as we can process them. Next priority will be Plan C (we already had Plan B, we don't think a virtual event is right at this time) for some gatherings of the clan and reconnecting the community.
Thank you so much for being a supporter of Lean in Australia, we look forward to catching up in some other way in 2023.
Warm regards
The Lean Enterprise Team