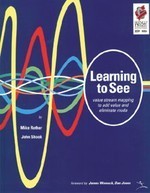 Learning to See
$110.00 inc GST
Mapping your value streams is a key step in creating a lean transformation, and "Learning to See" is the essential tool for creating your value stream maps.
SKU: L-09
Category:
Add to cart
Description
The journey towards lean can be difficult and filled with obstacles. Where does someone begin? What are the non-value-adding processes that can be eliminated? These are difficult questions to answer if you don't have the proper tools.
Value stream mapping is an excellent place to start the lean journey and understand the sources of waste in a company's operation. It's an overarching product that gives managers and executives a picture of the entire production process, both value and non-value adding activities. Rather than taking a haphazard approach to lean implementation, value stream mapping establishes a direction for the company.
Beginning with a forward by James Womack and Dan Jones, Learning to See breaks down the important concepts of value stream mapping into an easy to understand format. The manual is filled with actual value stream maps, as well as engaging diagrams and illustrations.
To encourage readers to become actively involved in the learning process, Learning to See contains a case study based on a fictional company – Acme Stamping. The reader begins by mapping the current state of the value stream and looks for all sources of waste in the value stream. After the waste identified, a map is developed with the projected future value stream.
Throughout the manual, Learning to See teaches readers the key concepts of value stream mapping. Written by two experts in the lean field, Mike Rother and John Shook, the workbook makes complicated concepts simple. It teaches reasons for introducing a mapping program and how it fits into a lean conversion.
With this easy to follow and engaging product, a company gets the tools it needs to understand a value stream mapping program, so it can eliminate waste in the production process. Start the lean journey and reduce waste that is costing your company money with value stream mapping.