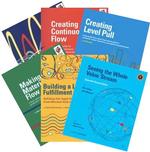 LEI Workbook Set
$578.00 inc GST
Save on learning how to implement lean at the process, plant, and entire value-stream level with these workbooks by the Lean Enterprise Institute.
SKU: 9222.0
Category:
Add to cart
Description
Learning to See
This groundbreaking workbook, which has introduced the value-stream mapping tool to thousands of people around the world, breaks down the important concepts of value-stream mapping into an easily grasped format. The workbook, a Shingo Research and Publication Award recipient in 1999, is filled with actual maps, as well as engaging diagrams and illustrations.
The value-stream map is a paper-and-pencil representation of every process in the material and information flow, along with key data. It differs significantly from tools such as process mapping or layout diagrams because it includes information flow as well as material flow. Value-stream mapping is an overarching tool that gives managers and executives a picture of the entire production process, both value and non value-creating activities. Rather than taking a haphazard approach to lean implementation, value-stream mapping establishes a direction for the company.
To encourage you to become actively involved in the learning process, Learning to See contains a case study based on a fictional company, Acme Stamping. You begin by mapping the current state of the value stream, looking for all the sources of waste. After identifying the waste, you draw a map of a leaner future state and a value-stream plan to guide implementation and review progress regularly.
Creating Continuous Flow
This workbook is the next logical step after Learning to See, which defined the pacemaker process and the overall flow of products and information in the plant. The next step is to shift your focus from the plant to the process level by zeroing in on the pacemaker process, which sets the production rhythm for the plant or value stream, and apply the principles of continuous flow.
This workbook explains in simple, step-by-step terms how to introduce and sustain lean flows of material and information in pacemaker cells and lines, a prerequisite for achieving a lean value stream. You'll learn: where to focus your continuous flow efforts, how to create much more efficient work cells and lines, how to operate a pacemaker process so that a lean value stream is possible, how to sustain the gains, and how keep improving.
Making Materials Flow
Making Materials Flow describes in plain language another step in implementing a complete lean business system: how to supply purchased parts to the value stream in order to support continuous flow. The problem many companies face is how to sustain steady output in a continuous flow cell. The answer is a lean material-handling system for purchased parts that supports the entire facility, including continuous flow cells, small-batch processing, and traditional assembly lines.
This workbook explains in plain language how to create such a system by applying the relevant concepts and methods in a step-by-step progression. The workbook reveals the exercises, formulas, standards, and forms that a consultant would use to implement the system in your environment. And, like LEI's other workbooks, Making Materials Flow answers the key question managers often have about lean manufacturing tools and concepts, "What do I do on Monday morning to implement this?"
Creating Level Pull
Creating Level Pull shows you how to advance a lean manufacturing transformation from a focus on isolated improvements to improving the entire plantwide production system by implementing a lean production control system.
The lean efforts at most companies focus on "point kaizen" (e.g., reducing set up times, implementing 5S, etc.) that improves a small portion of the value stream running from raw materials to finished products. Or they focus on "flow kaizen" that improves the entire value stream for one product family. Creating Level Pull shows how companies can make the leap to "system kaizen" by introducing a lean production control system that ties together the flows of information and materials supporting every product family in a facility. With this system in place, each production activity requests precisely the materials it needs from the previous activity and demand from the customer is leveled to smooth production activities throughout the plant.
Building a Lean Fulfillment Stream
Building a Lean Fulfillment Stream will change the way you think about your supply chain and logistics networks. Even better — it gives you a way to act using lean principles to transform and continuously improve these two key flows.
This workbook explains a step-by-step a comprehensive, real-life implementation process for optimizing your entire fulfillment stream from raw materials to customers, including practical insights into two critical concepts: calculating the total cost of fulfillment and collaborating across all functions and firms along the fulfillment stream.
Seeing the Whole Value Stream
Seeing the Whole Value Stream builds on the mapping technique introduced in Learning to See, extending the field of view all the way up and down the value stream. In this workbook, Dan Jones and Jim Womack, co-authors of Lean Thinking, provide a management tool for identifying and removing waste along the entire value stream from raw materials to end customer.
By identifying all the steps and time required to move a typical product from raw materials to finished goods, the authors show that nearly 90 percent of the actions and 99.99 percent of the time required for the value chain's Current State create no value. In addition, the mapping method clearly shows demand amplification of orders as they travel up the value stream, steadily growing quality problems, and steadily deteriorating shipping performance at every point up stream from the customer. Applying the method to a realistic example, the authors show how four firms sharing a value stream can create a win-win-win-win future in which everyone, including the end consumer, can be better off.
The workbook finishes with five essays demonstrating how real companies in multiple sectors have taken on the challenge of improving their extended value streams working in collaboration with their suppliers and customers.