Nigel Dalton – Chairman, Lean Enterprise Australia
The people of the global lean movement, with all its tens of thousands of supporters – among whom we count you if you're reading this newsletter – are feeling a little uncertain about their future. And for once in 2021, it's not the COVID pandemic at the heart of it.
The burning question is whether Lean has missed the bus on digital. Is Lean, with its funny terms, tools and models, being consigned to history as a 20th century way of simply making manufacturing more productive? How is Lean relevant to a new era of online, digital business where the consumer is all-knowing and powerful?
Did Agile, with all its little sub-cults and brands, in particular the latest 'scaled' variants like SAFE, win all the contracts for organisational transformation, leaving us lean-folk to tinker around the edges of old business problems?
Various attempts have been made to wedge our way (as lean thinkers) into the conversation at the grown-ups 'digital' table, but it's been a crowded space – given that small business computers have been around since the 1980s; the web since the 1990s; and ubiquitous mobile devices for a decade or more. Hard to get a word in edgeways!
There was even a lean software development movement (http://www.poppendieck.com/ ), valiantly championed by Mary and Tom Poppendeick over a decade ago. It largely got no cut-through among the world's software developers, despite the erudite books and conference tours that took the Poppendiecks all over the world.
After two decades being known as a 'digital native', and worse, 'the Godfather of Agile in Australia', here's how I view the situation we find ourselves in… 
My belief is that we are only just beginning a renaissance of Lean thinking and approaches. That the correct lens to use in 2021 is that all organisations and businesses are digital businesses now. It is not a separate thing. So get past the software making part, and look to the basic business inputs, process and outputs. 
A farm is a digital business now – just look at the growth of web tools like Australian startup Agriwebb.com, and the legislative requirement to track the food value stream from paddock to plate. 
The car industry is digital – for a start there's 100 million lines of code in the average modern vehicle, and when autonomous self-driving gets here, 500million lines of code. Cars are just software carried along by steel and rubber, and the manufacturers are good at software!
Charity is a digital business – just ask the team at Orange Sky Laundry, some of Australia's keenest students of lean thinking, as they grow their network of 32 vans to wash homeless people's clothes and afford them the dignity of conversation and connection. They don't have 'digital' software problems (their software expertise is so good they even wrote some of their own), they have growth and operations problems – which we love to help with, as we did at the 2019 Lean Summit in Australia.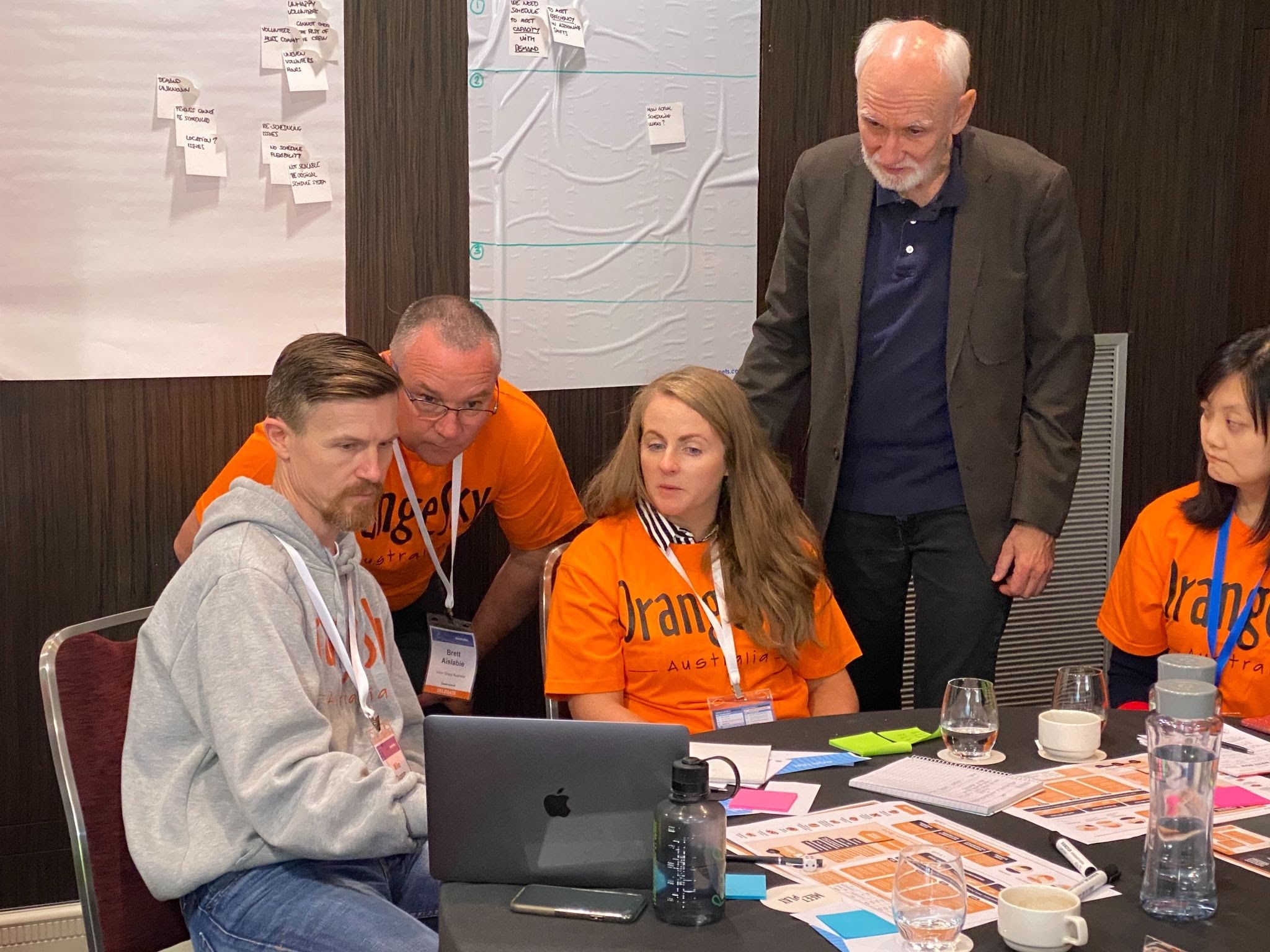 Consider healthcare as a 'digital business' – visiting various of the LEA's CEO Denise Bennett's transformation projects in the USA and Australia, it has always struck me that big gaps in the health and hospital value stream where waste accumulates are in email, call centres with work management software, messaging systems, online forms and booking systems, and data sharing. 
The doctors and nurses in the 'moment of treatment' might still be analogue flesh and blood (that COVID vaccine needle is very analogue indeed!), but the RNA research models that gave us the medicine were as mathematical and digital as they were chemical or biological.
Production lines in factories have become 'big data' production lines in organisations implementing machine learning, attended to by engineers and data scientists – the works of Larry P. English are suddenly the hottest thing amongst a new generation of data science thought leaders all scrambling to find his books which are now priced in the hundreds of dollars and quote Deming!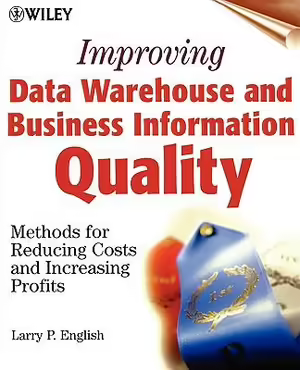 Ten years ago, web Mosaic browser inventor and internet venture capitalist Marc Andreesson wrote a controversial column in the Wall Street Journal titled 'Why Software is Eating the World'. You can find a copy here where it is not paywalled.
Andreesson's thesis was that mobile devices, social media, ecommerce and the web would push hardware into the background and make software the best investment his venture capital firm, Andreesson Horowitz, could chase in the next decade – that companies would invest every spare cent they could find to get online and automate processes.
Marc Andreesson was right – one consequence of which is a head-busting economic hangover from the very casual and chaotic approach to architecting software, and in many cases, simply automating very bad business processes with no customer in mind. Too much software and not enough attention to operating efficiency has ground so many businesses to a halt – most of whom are now seeking a 'transformation' by writing more software.
The organisations of the 2020s with the biggest hangovers have self-diagnosed (always a dangerous thing to do) that they are simply not digital enough – not innovative, or fast-moving, or productive enough to compete against smaller, faster, newer startups and scale ups (Australia's heroic list of disrupters below is courtesy of Airtree Ventures, a leading Australian competitor of Andreesson Horowitz.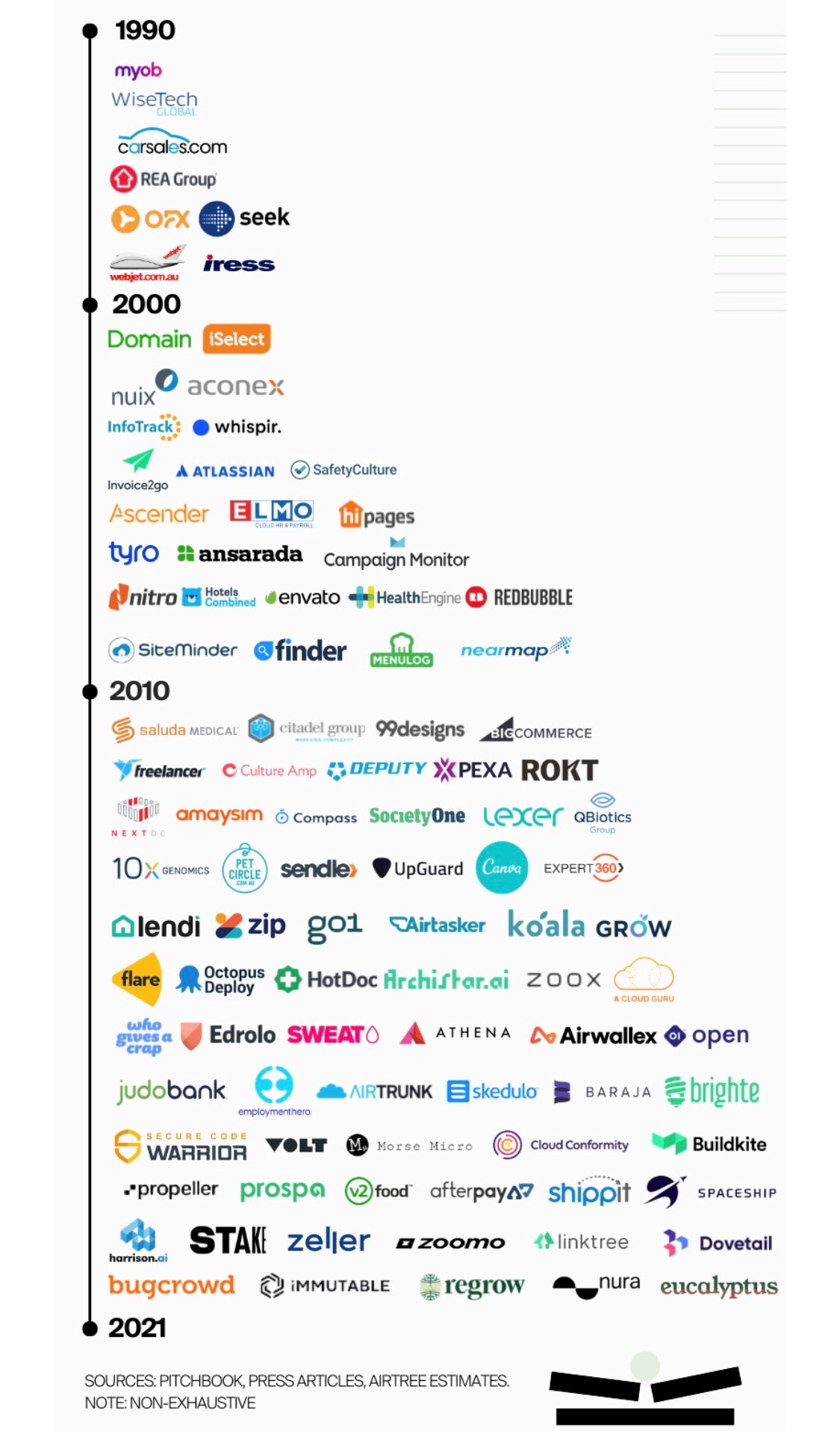 I believe they are diagnosing incorrectly. What Australian organisations have come up against is not the need for more software, but the need for lean thinking – the underlying philosophy of their business, their operating model, the way things are done around here to serve customers and make jobs.
Ironically, even those fancy-named 'digital native' startups and scale-ups that have disrupted the Australian business landscape for the last 20 years are at a moment of truth of their own! 
One that William Edwards Deming, Taiichi Ohno, John Shook or Jim Womack would recognise in an instant – the pain of growth, of running healthy operations, of creating goals and strategy that engage the workforce.
If you have a skill at systems thinking, using the key tools of Lean (from A3 to VSM to Hoshin Kanri), can understand the concepts of level-loading and fishbone diagrams, the future of Australia depends on you. 
Big business, small business and government sectors alike. We have run out of software problems, and now everyone has business problems.
2021 and beyond are times to invest in your lean education, for sure get comfortable with how software is used to deliver value to customers (not how code is written however – the muddled mess we find ourselves in with a typical enterprise running around 3,000 software applications proves that it can already be created plenty fast!), but mostly what it means to be a Lean Practitioner in a 'digital' society.
Read some new interpretations of the core lean thinking like Bob Moesta's Demand Side Selling 101, or Pascal Dennis's Harnessing Digital Disruption, and get up to speed with proven theorists like Dave Snowden and Amy Edmondson. Investigate the new Maintainers Movement in the USA, through the book The Innovation Delusion by Lee Vinsel and Andrew Russell.
And above all, stay connected with LEA as we emerge from a COVID challenge into an economic growth, sustainability and innovation challenge for Australian organisations.