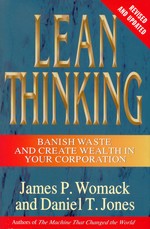 Lean Thinking
$74.00 inc GST
Updated and expanded with new information and insights, this authoritative book on applying lean principles is more relevant than ever to executives and managers seeking the benefits of a lean transformation.
SKU: AU1700
Category:
Add to cart
Description
Lean Thinking, the book that launched the lean movement back in 1996, has now been revised and expanded to bring the story up to date and show the continuing power of lean for today's difficult business climate.
Jones and Womack have tracked the continuing upward progress of the lean pioneers featured in the original edition and have drawn together the lessons they have learnt in observing firms making a sustained lean transformation. The book is still the essential first step for all those embarking on the lean path.
Further Info
"A Book with Legs" that is Changing the World: The Story of Lean Thinking
The extraordinary thing about Lean Thinking by James P Womack and Daniel T Jones (who also co-authored the best-selling The Machine that Changed the World) is that sales remain very brisk seven years after it was first published. In the book trade this is known as a "book with legs", in other words a book people running businesses are continually recommending to others. Why?
The new expanded second edition of Lean Thinking provides a straightforward answer – lean thinking works! A new chapter (14) shows that all the case study firms pioneering lean thinking have continued to make impressive progress through the business cycle, while other well known firms have soared before crashing again in harder times. And Toyota, where lean thinking originated, is well on its way to its declared ambition to become number one in the auto industry. This proven track record is why lean thinking has outlasted the many business fads that have come and gone.
The second reason is that the action plan described in the book has also stood the test of time. In a very practical way it describes how firms can get started down the lean path. A new chapter (15) reviews the experiences of many such firms and adds several new tools to help make and sustain the early gains from lean right across their supply chains.
So, what is lean thinking? In a nutshell lean thinking starts by defining customer value, rather than the capabilities of the firm's current assets that must be kept busy. It then traces every step required to design, order, build, deliver and maintain a product (called the value stream) and asks how many of these steps actually create this customer value. The shocking answer is very few – usually less than 5 % of the steps and time! A simple method then shows how to redesign all these processes to optimise the whole product flow (the value stream), rather than optimise each of the departments, plants and firms through which it travels on its journey from raw materials to the end customer.
Quite quickly, large amounts of waste can be removed and firms find they can do far more with their existing resources. Unit cost falls, quality improves, and firms can respond more quickly to changing customer needs. At the same time, managing and improving product flows rather than coping with the hassles within disconnected and dysfunctional departments and firms creates more rewarding jobs for employees. And the redesigned supply chain uses less transport and energy – which helps sustainability. A win-win-win all round. So who is using lean?
Lean thinking is rapidly spreading to every corner of the business world, and beyond. There is no longer a debate in the auto industry that lean thinking is the way forward – Toyota sets the standard and every auto firm now has its own lean programme. Porsche survives today because it adopted lean thinking during its crisis in 1992. In aerospace too BAe Systems, Rolls Royce, Westland and TRW Aerospace have followed Pratt & Whitney, GE, Boeing, Lockheed-Martin and Northrup-Grumman down the lean path.
Aloca was the first to apply lean thinking to the production of metals. Grocery leader Tesco acknowledges that lean thinking significantly helped them build the most efficient supply chain in the business, together with many of their suppliers like Procter & Gamble and Unilever. Pharmaceutical and chemical producers like Unychem, GlaxoSmithKline, Boots have more recently joined them, as have the electronics giants like Dell and Sony. But lean is not just for the big guys – lots of small engineering firms have also made big strides by implementing lean.
More than 300,000 copies of Lean Thinking have been sold in English along with German, French, Italian, Portuguese, Polish, Turkish, Korean, Japanese and Chinese translations. Since 1995 James Womack and Daniel Jones have held twenty Lean Summits (with up to1,200 attendees) in the USA, the UK, Germany, France, Brazil, South Africa, India, Turkey, Australia and Poland.
The Lean Thinking book has spawned a global network of non-profit institutes dedicated to researching, educating and publishing action-oriented knowledge to help firms make their own lean transformations. Lean Enterprise Australia is the Australian member of this network, which started with the Lean Enterprise Institute in the USA. In addition to offering regular workshops and publishing workbooks, more than 40,000 people around the world have signed up to receive regular emails on the latest activities of the network. It is not an exaggeration to conclude that this book has begun to change the world.